Secret Sound
The East Devon Radio's Secret Sound is here , and you could win some serious cash by working out our mystery sound!
Check out our new Secret Sound below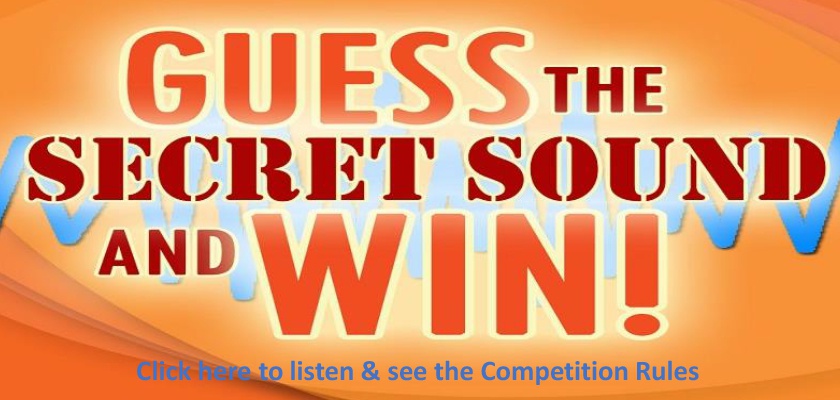 £250 Could be yours
for just identifying our mystery sound...
We'll play the secret sound during breakfast then at 8.15am on The Ben Clark Breakfast Show with Ben one lucky listener will have a chance to guess the secret sound.
How to Play
To enter, answer the daily qualifying question by texting YOUR ANSWER & YOUR NAME to 07947 211 311.
It's a standard text message charge.
Every competition round, we'll pick a contestant at random from all the texts received each morning during the competition.
Only one entry per mobile number will be counted in the draw - there's no advantage in sending multiple texts.
If you've been chosen to play, we'll call your mobile number, if you don't answer the phone, we'll then select another contestant at random.
We will never ask you for your guess until you're playing on air.
Once you've played, you can enter again another day by answering the qualifying question as soon as you've come up with another guess.
And of course, if you correctly identify the Secret Sound, you'll win £250.
Good luck!
Here's what's been guessed so far, but are wrong ...
Sue from Broadclyst - Power Button turning On or Off on a Mobile Phone
Robin from Withycombe Raleigh Exmouth - Sound of taking a photo on your phone
Simon from Cowick Lane Exeter - Click Counter for people going in and out of a venue
Hannah from Sidmouth - A pen being clicked on and off
Bevster from Exmouth - Maracas being shook
Mary from the Dairy - Withycombe Exmouth - Bus Ticket Clipper
Disco Stu from Exmouth - A Stapler
Jane from Budleigh Salterton - Opening or closing an ipad
Terms and Conditions
East Devon Radio's standard terms and conditions apply to all competitions on East Devon Radio.
In addition, the following specific rules apply to the East Devon Radio Secret Sound competition:
Entries will be selected by generating a random number corresponding to the order in which entries have been received.

Only one entry per mobile number will be accepted.

There will be one competition round per day during breakfast, between 7.30am & 8.30am.

In the event of circumstances beyond our control (e.g. loss of transmission, urgent breaking news, studio emergencies, etc) we reserve the right to run the competition at the earliest opportunity after these times - in the event that this is necessary, it will be announced on air.

If you fail to answer the telephone when we call you, you will be deemed to have forfeited your opportunity to play and another number will be chosen at random to enter a guess.

By entering the competition, you are agreeing to be identified as a winner and you may be asked to take part in some publicity activity (e.g. photocalls with local press)

As with all East Devon Radio competitions, current East Devon Radio volunteers and their immediate families are not allowed to enter.