Secret Sound
The East Devon Radio's Secret Sound is here, and you could win some serious cash by working out our mystery sound!
Check out our new Secret Sound below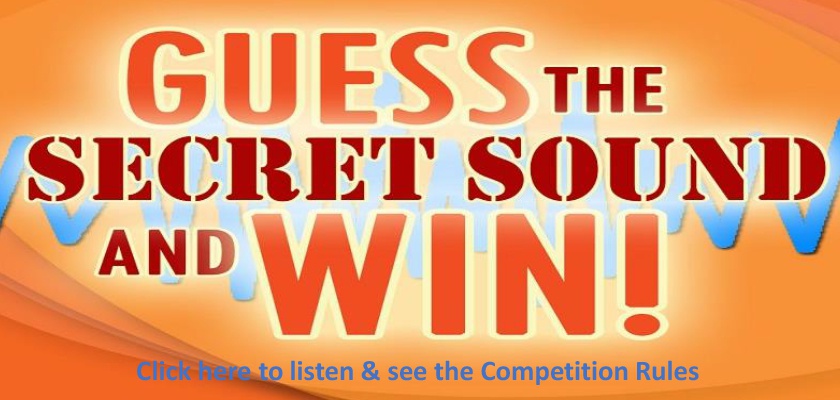 £500 Could be yours for just identifying our mystery sound...
We'll play the secret sound during breakfast then at 8.25am on The Ben Clark Breakfast Show with Ben one lucky listener will have a chance to guess the secret sound.
How to Play
To enter, answer the daily qualifying question by texting YOUR ANSWER & YOUR NAME to 07947 211 311.
It's a standard text message charge.
Every competition round, we'll pick a contestant at random from all the texts received each morning during the competition.
Only one entry per mobile number will be counted in the draw - there's no advantage in sending multiple texts.
If you've been chosen to play, we'll call your mobile number, if you don't answer the phone, we'll then select another contestant at random.
Once you've played, you can enter again another day by answering the qualifying question as soon as you've come up with another guess.
And of course, if you correctly identify the Secret Sound, you'll win £500.
Good luck!
Here's what's been guessed so far, but are wrong ...
Pressing the clasp on a brief case - John in Dawlish
Loosing the frequency / retuning a radio - Neil from Dunkerswell
A hole punch - Brad in Thorverton
Poppers on a duvet being pressed - Alan
Opening or closing a cardboard box - Annette in Exmouth
Opening a chocolate biscuit and snapping it - Louise in Dawlish
Opening and closing a ring binder folder - Emma @ New World Timber
Opening and closing a car boot - Kevin
Posting a Parcel into a post box - Gale in Sowton
Opening a cardboard milk carton - Katie in Ottery St Mary
A hole punch - Sasquatch in Exmouth
A hole punch - Shaun in Teignbridge
Someone playing squash - Dulcie in Sidmouth
Pushing a peddle bin pedal - Kelvin in Cranbrook
Paper Stapler - Marigold in Exmouth
Opening a lunch box lid - Jude in East Budleigh
Putting a dishwasher tablet in the drawer of a dishwasher - Katie in Exeter Quay
Putting the metal stopper into a kitchen sink hole - Sandra in Broadclyst
Throwing a ball into a netball or basketball onto the backboard, net and bouncing on the floor - John in Exmouth
Pressing a Receipt Stamper - Bradley in Thorverton
Writing your signature on a piece of paper -Blonde in Topsham Road
Kicking a ball against a wall- Jan in Exwick
Opening an umbrella - Jude in East Budleigh
Key in a lock - Karen in Cranbrook
Stylus being placed on a vinyl record - Alex in Exeter
Opening a cardboard box with a knife - Penny in Mamhead
Someone playing Kerplunk - Jane in Exmouth
Train Doors Closing at a Station - Kev Dawlish
Squashing a Juice Carton - Rugby Ron
Fidget Poppet Toy - Naomi
A Rubix Cube being played - Dodgy Ron in Budleigh
Somebody Tapping a Microphone - Captain Kurt
Opening an Envelope - Katie
Potting a golf ball - Sandra in Broadclyst
Opening a Juice Carton - CJ in Dulverton
Pedal on a sewing machine being pressed down - Jane in Budleigh Salterton
Pressing the dice button on Frustration - Bev in Exmouth
Opening a packet of Pringles - Jennifer
A hard vegetable being cut in half - Chris in Exmouth
Opening a briefcase - Lucy in Sidmouth
Closing a car door - Kerry in Exeter
Opening a of Plastic Container of food - Nicole in Exmouth
Playing Jenga - Claire in Marsh Barton
Playing Frustration - Wendy in Brixington, Exmouth
Opening a cereal box - Amanda in Cranbrook
Moving chess piece on a chess board - George in Lympstone
Shuffling a deck of cards - Rach in Exeter doing the school run
Someone playing Tiddly Winks - Marlene in Ottery St Mary
Putting a jigsaw piece into a Jigsaw puzzle - Kirstie in Pinhoe
Putting a disc into Connect 4 - Debbie
Putting two pieces of Lego together - Sharon in Exmouth
Playing Buck-a-roo - Kevin in Dawlish
Playing Frustration - Nicki in St Thomas, Exeter
Pushing a row of Dominoes - Kevin in Exmouth
Playing Scrabble, laying down a tile - Ron
Playing mousetrap - Daz in Exmouth
Playing Hungry Hippos - Jan in Exwick
Taking a mobile phone cover off - Nicola in St Thomas
Playing the game operation - Brenda in Exmouth
Playing a shape child's toy - Sandra in Broadclyst
Moving a piece on a Trivial Pursuit - Debbie in Otterton
Opening or closing of a Trivial Pursuit - Beverley in Heavitree
Playing Hungry Hippos - Kat in Brixington
Putting a car seatbelt on - CJ in Budleigh Salterton
Playing Gonna get you - Maggie in Sandford Peverell
Plugging something into an amplifier - Mark
Playing Backgammon - Debbie in Otterton
Playing Swing Ball - Wendy in Brixington
Terms and Conditions
East Devon Radio's standard terms and conditions apply to all competitions on East Devon Radio.
In addition, the following specific rules apply to the East Devon Radio Secret Sound competition:
Entries will be selected by generating a random number corresponding to the order in which entries have been received.

Only one entry per mobile number will be accepted.

There will be one competition round per day during breakfast, between 7.30am & 8.30am.

In the event of circumstances beyond our control (e.g. loss of transmission, urgent breaking news, studio emergencies, etc) we reserve the right to run the competition at the earliest opportunity after these times - in the event that this is necessary, it will be announced on air.

If you fail to answer the telephone when we call you, you will be deemed to have forfeited your opportunity to play and another number will be chosen at random to enter a guess.

By entering the competition, you are agreeing to be identified as a winner and you may be asked to take part in some publicity activity (e.g. photocalls with local press)

East Devon Radio volunteers and their immediate families are not allowed to enter.