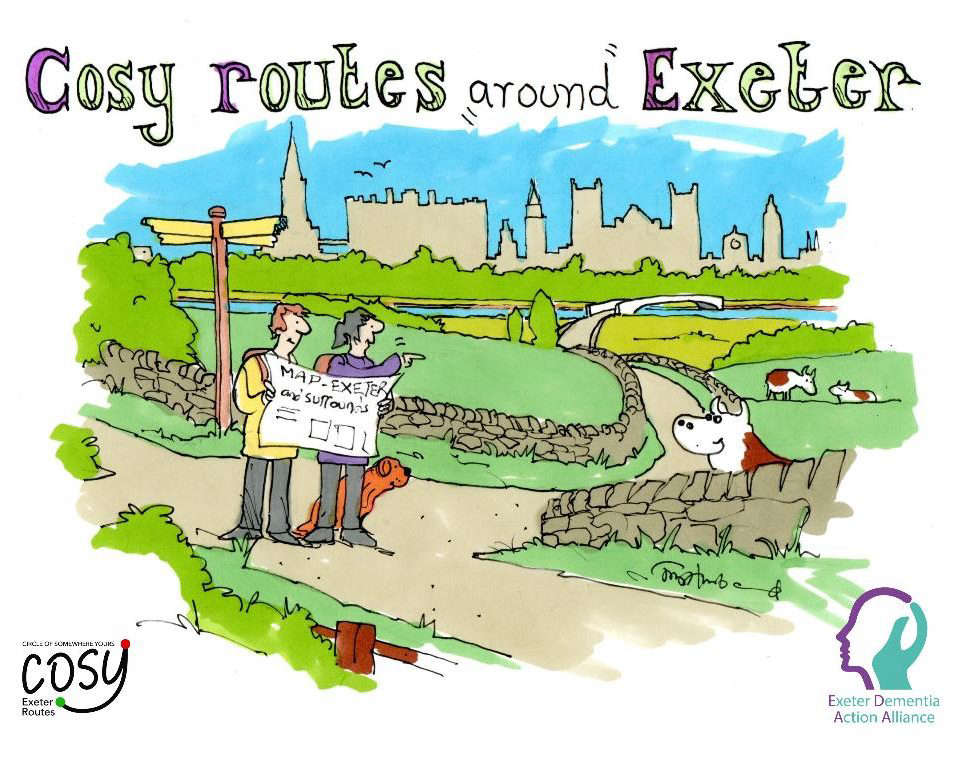 The Exeter COSY Route project is a community wellbeing and dementia awareness initiative created for Exeter Dementia Action Alliance to signpost people of all abilities to routes on the edge of the city where they can walk and run.
The full circle will take you to every compass and hill viewpoint around Exeter, following footpaths, quiet lanes, field tracks, over stiles, through woodland, paved roads, some busier parts of the city, along its suburban fringe and into neighbouring village communities.
You'll cross the river and canal, go under and over the M5 motorway, step over both the Exeter to London rail lines, and pass churches, pubs, schools, and local businesses.
Whether you take on this challenge over months, weeks, days or in one strenuous go, you'll see the city as never before, and complete a marathon in doing so.
Link to a short YouTube video about COSY Routes
The idea of creating this 26.2 mile route embracing the city was conceived by marathon runner and dementia campaigner Jo Earlam to mark the community caring and awareness raising role of EDAA, which in May 2020 marked its fifth anniversary.
The choice of route was chosen to encompass the widest area of the city as possible, whilst accessing the safest pedestrian options. At some points the route follows the city boundary exactly, in others it weaves a path in and outside the border, inspiring the COSY acronym, as those taking part walk or run around the central busy heart, which is the community and city of Exeter.
The route breaks down into eight shorter, also circular sections, of between four and seven miles, with dementia accessible suggestions for each.
The individual routes all have their own character, points of interest and history – these have been captured in a series of stunning illustrations by Private Eye cartoonist Tony Husband and photographed in detail by former BBC Radio Devon breakfast presenter and keen walker and photographer Vic Morgan.
As a full marathon distance, the COSY route format differs from existing city marathon concepts, by being away from the city centre, avoiding main roads and provide for a run or walk that could be undertaken in solace or small groups.
Link to the Ordnance Survey digital mapping site, with details of the route…