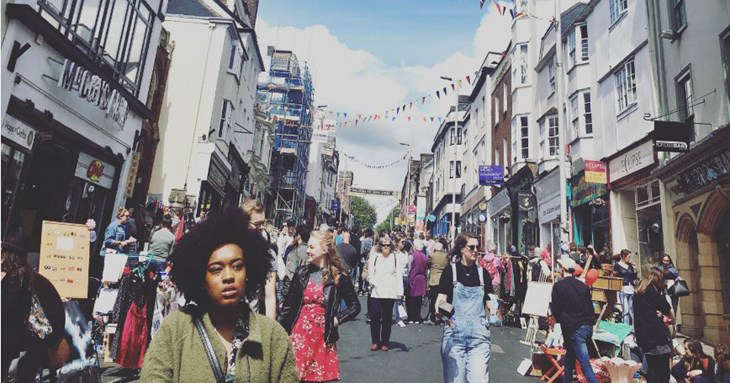 Fore Street Flea, one of the events celebrated during Local Living Month
September has been dedicated to celebrating Local Living by InExeter, the Business Improvement District for the city.
The idea behind Local Living Month is celebrating all that is great about Exeter, the independent businesses, buying things local to support businesses as well as being more sustainable and championing local organisations.
The full event line-up includes the popular Fore Street Flea in the West Quarter as well as events in Sidwell Street in Eastgate and South Street for the Cathedral Quarter.
To start the celebration the Sidwell Jumble returns to Sidwell Street on Thursday 1 September, between 11am and 3pm, to celebrate community and charities with a table top sale.
Andrew Roberts, Head of Employability and Enterprise at visual impairment charity InFocus, said: "The InFocus charity shop team are looking forward to getting involved with the Sidwell Jumble again. The last event was a great opportunity to shine the spotlight on Sidwell Street and the work that our local charity does with people who have vision impairment and complex needs."
The Sidwell Jumble is outside Ari's Healthy Life Cafe in Sidwell Street and features charity stalls along with live music and entertainment.
Local Living Month will also celebrate South Street during September with South Street Sunday - an expansion of the South Street Green Festival launched in March.
South Street Sunday event takes place on Sunday 11 September, 12pm to 4pm, with the street closed to traffic to allow visitors to wander through the event on foot, enjoying stalls with Fairtrade, green and sustainable/eco products from local businesses.
It will also include free community activities and local sports organisations will also be present, sharing information on their services and how to get involved.
Heidi, from How on Earth Deli in South Street, said: "We are proud to be involved in South Street Sunday and being part of an event that will celebrate all that the city and surrounding area has to offer. We are very lucky to have a strong vegan and sustainable community from the wide variety of independent businesses in Exeter, and this event celebrates this perfectly."
The finale to Local Living Month will be a Secret Party on the evening of Friday 30 September.
Secret events were first launched by InExeter last year and proved highly successful with the surprise of participants not knowing the details until arrival on the night. This party will include fancy dress made of recycled materials with an activity at the event themed around sustainability.
Throughout the month there will also be a range of activities running in the city, all promoting and celebrating Local Living Month, including the renowned Red Coat Tours 'turning green' with sustainable tours of the city.
There will also be a special four week art programme, where participants will be guided through how to make art with found materials.
These art workshops take place every Saturday morning in Rougemont Gardens, led by internationally-acclaimed local artist Cleo Heard. Each workshop will culminate in a community picnic in the park.
Cleo said: "I am thrilled to be invited to run a series of family-friendly environmental art workshops in the centre of our city for Local Living Month. The creative workshops have been developed for all abilities and to encourage connection and exploration of our beautiful green spaces in the very heart of Exeter."
As part of InExeter's Local Living Month InExeter have a call out to the community to get involved with grants available for up to £3,000.
This could be activating spaces in a fun playful way, engaging communities, championing local businesses or even urban planting and street art.
Applications are now open to apply for funding to run an activity that celebrates Local Living Month during September.
Any organisation, group or business wishing to apply should send details through of their planned activity, costs to run and any requirements to info@inexeter.com by 12 August.
More details on all the events running as part of Local Living will be released nearer the time.
InExeter welcome anyone interested in taking part in the Sidwell Jumble or the South Street Sunday event to contact InExeter Events Manager Marina O'Shea marina@inexeter.com for further information.
The key dates for Local Living events organised by InExeter are:
Sidwell Jumble
Thursday 1st September
11am – 3pm
Sidwell Street
The Fore Street Flea
Sunday 4th September
12pm – 4pm
Fore Street, Exeter
South Street Sunday
Sunday 11th September
12pm – 4pm
South Street
The Secret Party
Friday 30 September
Secret Location – for more information on this event email info@inexeter.com