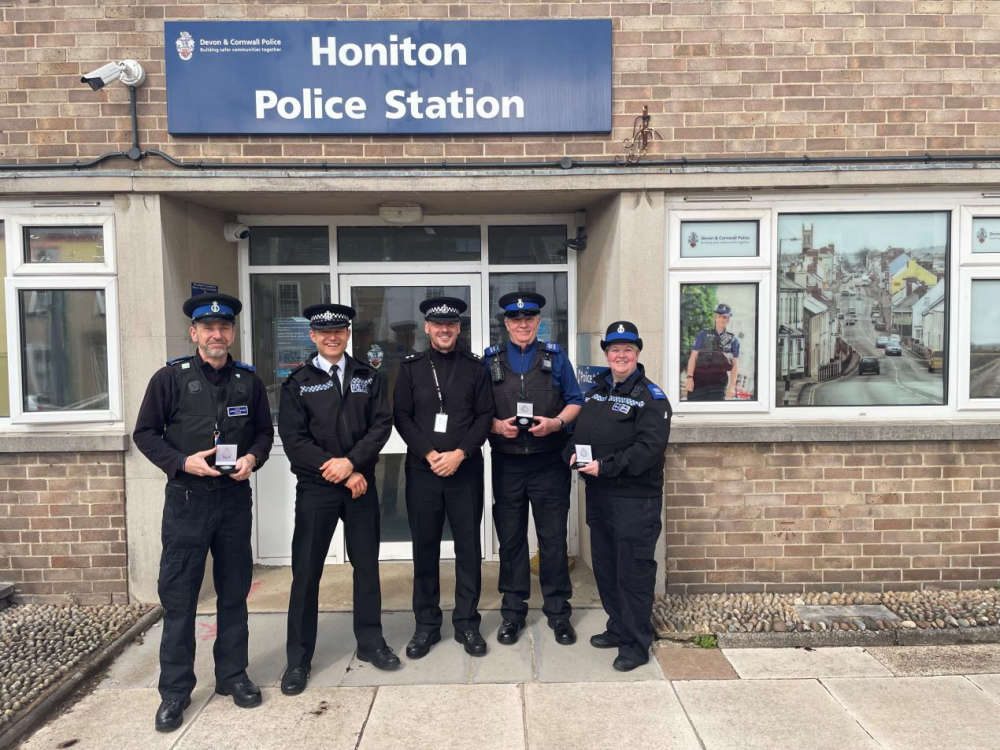 Chief Inspector John Shuttleworth attended Honiton Police Station this week to hand out commemorative medals to the Rural East Devon Police Community Support Officers (PCSOs).
The medals are in recognition and celebration of the 20 year anniversary of PCSOs across Devon & Cornwall Police.
PCSO Darren England, PCSO Hayley Widger and PCSO Michael McGauley serve Honiton, Axminster and Seaton respectively and Rural East Devon Inspector Phil Gray was also present at the event.
Chief Inspector John Shuttleworth, who covers Exeter, East and Mid Devon Local Policing Area, said: "They have all served their communities with distinction and enthusiasm and they are valued members of our team.
"These medals are in recognition and thanks on behalf of the local policing teams and on behalf of the communities across East Devon, where these officers serve. They make a huge contribution to building really strong bonds of trust and confidence with local people. They are hugely influential in how we connect to local people and I am so proud to have them in our team."
In January 2003, ten PCSOs started in post as part of a pilot scheme being run in East Devon, the first to be employed in the Devon & Cornwall force area.
PCSO Darren England, who is PCSO for Honiton, has lived and worked in the town since he was a teenager and previously worked as a baker, before deciding to sign up as a PCSO. His brother-in-law worked as a police officer for Devon & Cornwall Police and offered some advice on joining the ranks.
The role of a PCSO is very varied and there can be daily challenges which test their extensive knowledge. PCSOs officer a familiar and friendly face to local people.
Darren added: "I have met many people during my time with the force and still enjoy being able to help our community."
PCSOs are part of the visible face of policing in our neighbourhoods and can be found patrolling towns and villages to help local residents and visitors and build relations. PCSOs can offer crime prevention advice and a reassuring presence.
The medals were paid for and distributed by the Office of the Devon & Cornwall Police and Crime Commissioner.