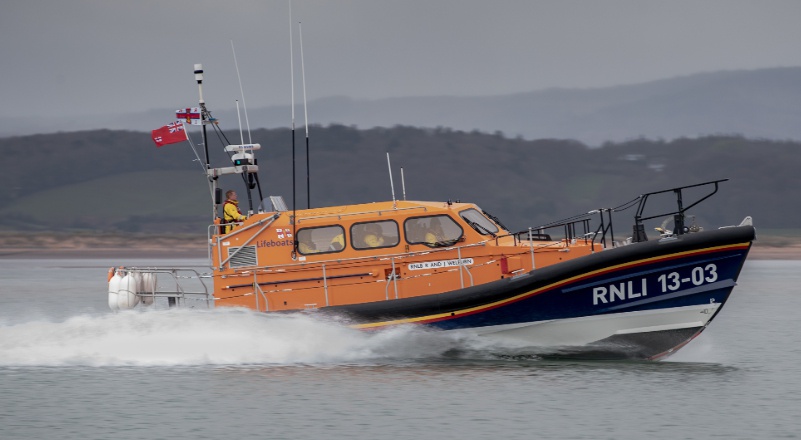 Exmouth RNLI volunteers were tasked to conduct a shoreline search of Dawlish Beach following reports of major flooding in the town.
In their second shout this weekend, at 3.34pm today Sunday 17th September 2023, H.M. Coastguard tasked both crews of Exmouth RNLI All Weather Shannon Class lifeboat 13-03 R & J Welburn and Inshore Lifeboat D-805 George Bearman II to conduct a shoreline search along the Dawlish coastline. This followed concerns that following heavy rainfall there was major flooding in Dawlish Town that could cause persons on the beach to become cut off by the floods and become a potential risk to life.
Both lifeboats launched shortly afterwards and made best speed to the location where they conducted a thorough search of the area. The crew acted in collaboration with the Dawlish Coastguard Rescue Team
Following completion of their tasking and satisfied that no persons were in danger or in need of assistance, H.M. Coastguard stood down both lifeboats at 4.19pm, at which time the volunteers returned to Exmouth Lifeboat Station. Both lifeboats were back on station a short time later.
The all weather lifeboat was crewed by Roy Stott, Andy Stott, Guy Munnings, James Edge, Mark Sansom and Dougie Wright and the inshore lifeboat by Harry Griffin, Ed Steele and Geoff Mills. The launch was authorised by Deputy Launch Authority, Hedley Saunders.
Other RNLI volunteers involved in the launch we Tractor Drivers, Henry Mock and Robert Thompson, Head Launcher, Tim Barnes and shorecrew Ed Thomas, Henry Thomas, Rory Carrig, Ted Wignall, Chris Angell, Mark Champion, Scott Ranft, Tim Thorn and Roger Jackson.