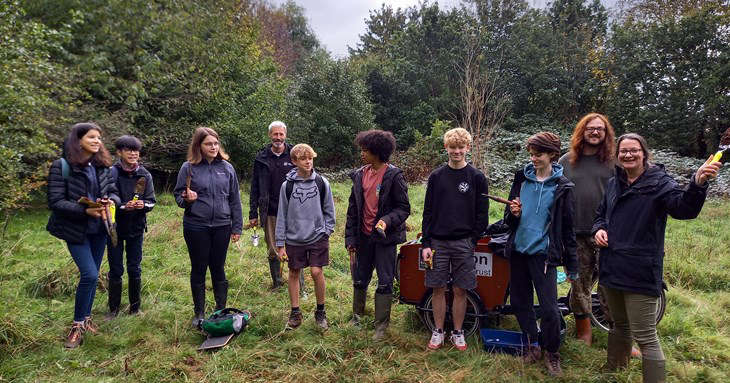 One of Exeter's green spaces is set to burst with colour for years to come thanks to the efforts of a local charity and its young volunteers.
Leaf Land is a two-hectare part of Exeter's Riverside Valley Park, nestled next to the River Exe and in view of the old Trew's Weir. This autumn Devon Wildlife Trust has planted the public green space with 3,000 wildflower bulbs with the aim of bringing colour and helping local nature.
Each bulb was planted by hand and the charity's staff were helped in their back-breaking task by Exeter Youth Rangers – a group of local volunteers aged 13 to 18 years – along with Year 9 students from nearby Isca Academy. The group meets monthly to tackle environmental jobs including litter picking, tree and wildflower planting within the city's six Valley Parks.
Funding for the planting along with tools and a new interpretation board which tells the project's story has come from Great Western Railways' Community Fund as part of its celebrations to mark the opening of the nearby Marsh Barton Station. Exeter Valley Parks are managed by Devon Wildlife Trust on behalf of Exeter City Council.
Chris Moulton is Devon Wildlife Trust's Nature Reserve Officer and has been looking after Exeter's Valley Parks for more than 20 years. Chris said: "Leaf Land is well-known to many local people as a woodland walk with great views over the River Exe.
"The trees were planted by local people in the late 1990s, but the ground around them lacks the usual mix of native wildflowers you might expect to see in a Devon woodland. This means it doesn't provide the colourful spring displays for people to enjoy and, crucially, it doesn't give local insects a nectar source to feed on. The planting we've been able to do thank to Great Western Railways has helped us change this for the better."
The new wildflowers have been carefully selected to provide the maximum colour and the maximum benefit to wildlife. Five species of native woodland flowers have been planted – bluebells, wood anemones, wild garlic, snowdrops and wild daffodils – which will provide an important additional source of nectar to insects including bumblebees, moths and butterflies.
Emily Bacon, Devon Wildlife Trust's Wilder Learning Officer and coordinator of the Youth Rangers volunteers, said: "Our Youth Ranger volunteers have done a wonderful job at Leaf Land, planting each of the 3,000 wildflower bulbs by hand.
"The first results of their work will begin to show next spring, but the full displays of blooming wildflowers will come the following year in spring 2025 and then for many years to come. It's then that we'll be able to see the real difference they've made for local people and wildlife."
David Whiteway, Great Western Railways Regional Growth Manager, said: "The Community Fund is a fantastic opportunity for us to invest in projects that really make a difference to our customers and communities at a local level.
"We're delighted to support this initiative. It's great to see such enthusiasm from the Exeter Youth Rangers, working with Devon Wildlife Trust to ensure one of the city's green spaces will be bursting with colour in years to come."