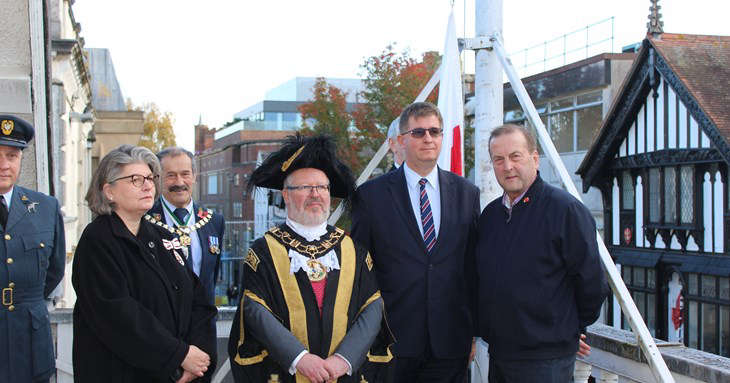 The Polish flag has been flown above Exeter's historic Guildhall in honour of the Polish 307 Squadron.
The Squadron were stationed in Exeter and defended the city during the Second World War.
An exhibition at the Guildhall throughout the day highlighted the achievements of the Squadron, who were based at Exeter Airport.
Lord Mayor of Exeter Cllr Kevin Mitchell and Council Leader Phil Bialyk took part in the ceremony to raise the Polish flag from the balcony of the Guildhall.
307 Squadron defended the South West during the conflict and helped prevent Exeter being destroyed during the blitz on the city in 1942.
Standard Bearers of the Regimental Association of the Devonshire and Dorset Regiment formed up in the High Street as dignitaries and members of the public watched the ceremony.
Cllr Bialyk, who attended the ceremony, said: "We are very honoured to be flying the Polish flag above the Guildhall in memory and recognition of 307 Squadron, which did so much to protect us.
"The Squadron gave two years of service defending our city and we are really appreciative of what they did, and I am so proud that Exeter can continue its close relationship with the 307 Squadron."