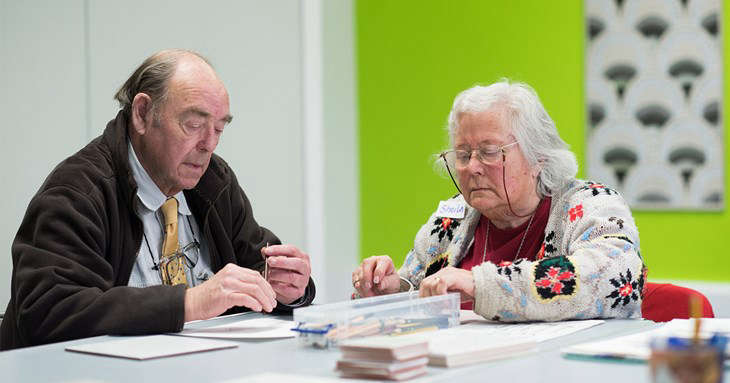 Wellbeing Exeter, Age UK Exeter and the Royal Albert Memorial Museum & Art Gallery are joining together in a social-prescribing project to improve wellbeing for older people.
The project will see two new roles being created that link older people with creative and cultural opportunities in the city, including the museum, arts activities, historic buildings, libraries and cultural events.
These Community Connectors will be part of the Wellbeing Exeter team, employed by Age UK Exeter and based at Exeter's museum.
Cllr Laura Wright, Lead Councillor for Arts and Culture at Exeter City Council said: "This is an exciting opportunity for the museum. There is an expanding body of research to support the case that the arts and culture have an important contribution to make to health and wellbeing.
"Embedding community connectors in the museum itself is an innovative approach to social prescribing. It builds on a decade of learning from RAMM's well-developed dementia-friendly programme and will help us better understand the needs of older people in our community."
Gail Mistlin, Wellbeing Exeter Community Connections Manager, said: "Community life and social connections are vital to all our health and wellbeing. Wellbeing Exeter works alongside people to discover and develop opportunities and ideas on how to live and feel better.
"There is emerging evidence that connecting people to what matters to them can lead to a range of positive health and wellbeing outcomes, such as improved quality of life and emotional wellbeing. We are delighted to be expanding the number of connectors and partners."
Nicky Flynn, Chief Executive Officer, Age UK Exeter said, "Age UK is all about enabling local older people to make the most of life, whatever their circumstances, so this project fits very well with our ethos.
"Older people may be referred to these community connectors because they are experiencing loneliness and isolation, struggling with caring responsibilities or they might need help in managing health conditions.
"With health and social care services stretched, community connecting can help save money in those statutory services, and have a very powerful effect on people's lives. Engaging with culture can help keep older people well, aid their recovery following illness and support longer lives better lived."
The job advert for the new Community Connector roles can be found here
The deadline for applications is Wednesday 7 December, at 5pm.
The funding for these Community Connector roles has been coordinated by Devon Community Foundation.