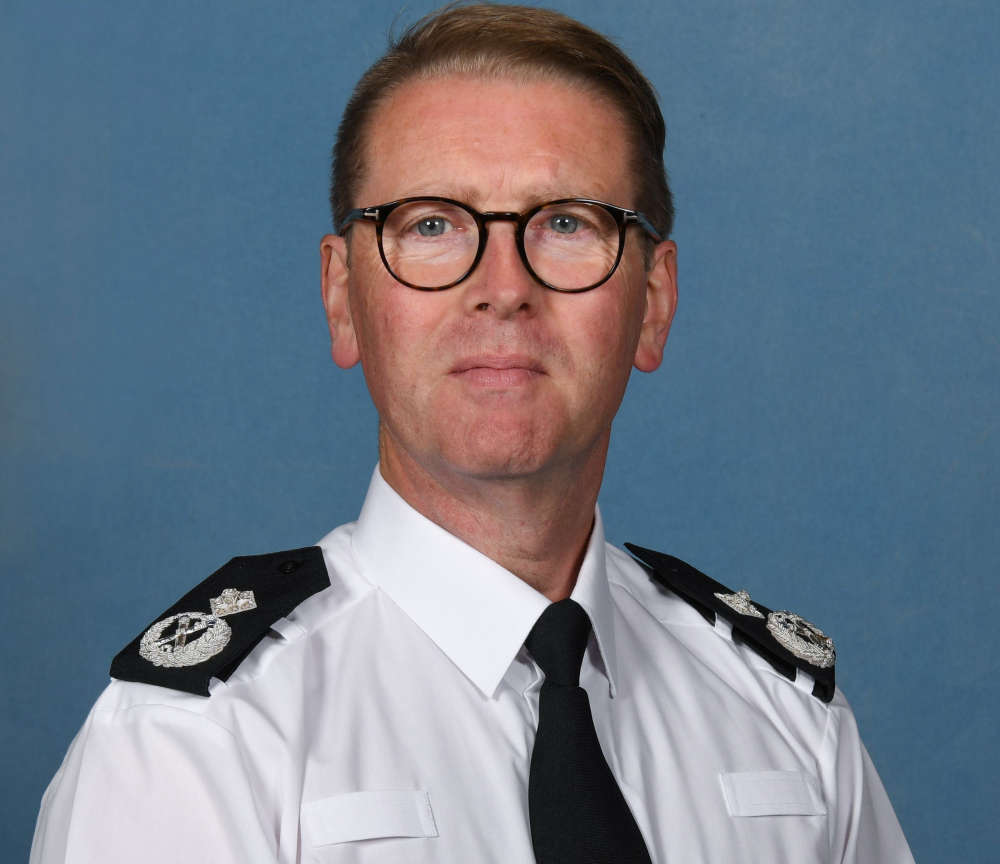 Devon and Cornwall Police's new chief constable says he is committed to creating an environment where women "can feel safe to walk about our streets and our communities without being harassed or challenged."
Devon and Cornwall Police's new chief constable says he is committed to creating an environment where women "can feel safe to walk about our streets and our communities without being harassed or challenged."
Speaking just weeks after taking up his role, Will Kerr has declared tackling violence against women and girls a key priority.
Mr Kerr was formerly the deputy chief constable with Police Scotland. He spent over 27 years in the Police Service of Northern Ireland and joined the National Crime Agency (NCA) on secondment in 2017. He was awarded an OBE in 2015 and joined Police Scotland in 2018 but said he was looking forward to his new role.
"It's a real privilege to live and work in such a wonderful part of the country and with a police force that actually gets the importance of basic policing, to understand the value of community connections and has a strongly supportive community behind it," said Mr Kerr.
Mr Kerr also spoke about the need to improve performance across the service at a time when the force is currently in special measures. But he insists they are getting many things right.
"There are some challenges for Devon and Cornwall Police at the moment," he said. "But there are also some areas in which it's performing incredibly well. So my job is to make sure I maintain the latter and address the two or three areas where His Majesty's Inspectorate of Constabulary said that the force needs to improve its performance. We do and we will this year."
Mr Kerr says the force will continue to work with other agencies to help stamp out violence against women and girls.
"This is a massively important subject," said Mr Kerr. "Tackling violence, in particular tackling violence against women and girls, has never been more important for policing.
"And we work incredibly closely with a range of partners across the south west who have been every bit as proactive as we are in tackling this terrible pernicious crime and scale of behaviour when it comes to particularly harassment of women and girls in the street."
He added that they are all "working incredibly hard to make sure that that all of that activity leads to an environment where women and girls in particular can feel safe to walk about our streets and our communities without being harassed or challenged, and that when violence does happen, that we deal with it incredibly robustly to make sure that it certainly can't happen again."
Organisations such as the Criminal Prosecution Service have identified right-wing extremism as a growing threat in the UK but Mr Kerr, who was the lead for both serious crime and counter terrorism in Northern Ireland, insists it is not a major problem in Devon and Cornwall.
"I'm glad to say that it certainly isn't an issue in the south west and Devon and Cornwall Police area nearly as much as I may have experienced elsewhere," he said. "And that's good.
"That's not to understate how much of a challenge extreme right-wing activity can be when it happens. But we don't have a particular problem in the south west with that and we're certainly not complacent about it either.
"But my experience of policing in Northern Ireland and Scotland and London is of a completely different sense and scale of threats and the political environment. And sometimes it's just it's important just to keep a bit of perspective."
In addition to his role as chief constable, Mr Kerr was elected to one of the three European delegate posts for the Executive Committee of Interpol in November 2021, a position he will hold until November 2024.