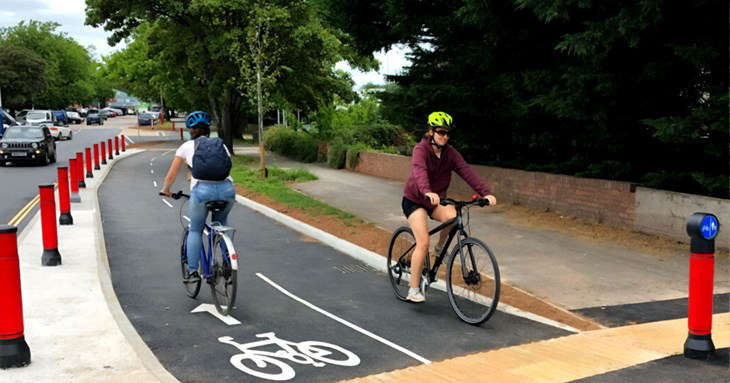 People are being invited to have their say on the draft Exeter Local Cycling and Walking Infrastructure Plan (LCWIP) which puts forward proposals for new walking and cycling routes as well as recommending improvements to the existing network in the Exeter area.
A public consultation has been launched on ambitious proposals to enable and encourage more people to walk and cycle in Exeter.
People are being invited to have their say on the draft Exeter Local Cycling and Walking Infrastructure Plan (LCWIP) which puts forward proposals for new walking and cycling routes as well as recommending improvements to the existing network in the Exeter area.
The plan, which has been developed by Devon County Council in partnership with Exeter City Council, is made up of 22 cycle routes and five city centre walking routes.
It identifies gaps in existing active travel provision in the city with the aim of providing a comprehensive network.
Measures being put forward will include traffic-free cycle routes, advisory cycle routes on quiet roads, as well as junction and pavement improvements to make it easier for people to take up active travel around Exeter.
The public consultation, which will be held from 1 February to 31 March, will help inform the final plan that will detail which routes will be the focus of targeted investment over the next 10 years.
A number of consultation events will also be held in the Ante Chamber at County Hall from 11am – 7pm on Tuesday 14 February, Wednesday 15 February, Wednesday 15 March and Thursday 16 March.
Proposals include:
City centre to Cranbrook (E3) –
Further work is planned to improve crossings and create sections of protected cycling provision as well as a new alternative off-road cycle route between Tithebarn Lane and Cranbrook, away from the busy old A30.
Pynes Hill Business Park to Sowton Industrial Estate and Exeter Business Park (E10) –
The E10 route creates a link to and through employment sites at Pynes Hill, Sowton and Exeter Business Park. Proposals include providing dedicated pedestrian and cycle crossings at the busy Moor Lane roundabout and filling-in missing links of the path along Moor Lane.
Marsh Barton Station to city centre via Water Lane development and Exeter Quay (E14) –
Proposals include connecting the proposed Water Lane development to the new Marsh Barton Station with an improved route alongside Exeter Canal and upgrading the connection from the Quay to the city centre.
South West Exeter development to Exe Bridges (E15) –
E15 will connect from the new school and residential development at South West Exeter via a new pedestrian / cycle bridge over the A379 through Alphington and the Marsh Barton Industrial Estate to the cycle network at Exe Bridges.
Ide to Marsh Barton Station and Industrial Estate (E17) –
This route includes a recently delivered quiet route made possible with a modal filter on Bulls Farm Road as well as dedicated provision through Alphington and Marsh Barton. Work is likely to comprise a mix of shared use provision and protected lanes through Marsh Barton, as well as junction improvements.
Councillor Stuart Hughes, Devon County Council Cabinet Member with responsibility for cycling, said: "This is a good opportunity for local residents to comment on this draft plan for the walking and cycling network in and around Exeter and we're keen to hear their feedback. The results of the consultation will help identify which potential schemes can have the greatest impact to boost walking and cycling."
Councillor Emma Morse, Lead Councillor for City Development and Planning at Exeter City Council, said: "Exeter City Council welcomes the consultation on this draft of the local cycling and walking infrastructure plan.
"The LCWIP provides more detail on the active travel measures needed to support the current Exeter Transport Strategy, and it will be vital to support the aspirations for 50% of trips within the city to be made on foot or by bike.
"Growing the numbers who walk and cycle will be essential to achieve our goals on health and wellbeing, carbon, investment, community and culture and we look forward to continuing our work with Devon County Council going forward."
The draft plan follows the Department for Transport's LCWIP framework which forms a vital part of the government's strategy to increase the number of trips made on foot or by cycle.
The Exeter Transport Strategy 2020 – 2030 sets out the ambition for 50% of work trips originating in Exeter to be made by foot or cycle by 2030. The Exeter LCWIP will set out the infrastructure needed to enable people to change their travel habits and make progress towards this 2030 target.
The consultation website includes questionnaires for the proposed LCWIP network as a whole, as well as feedback forms to comment on individual cycling and walking routes.
To take part in the consultation people can:
View all information about the proposals on the consultation website,
Complete the online feedback forms (paper copies of these questionnaires are available on request),
Attend one of the consultation events, details of which can be seen on the website,
Email the project team: transportplanning@devon.gov.uk
Anyone requiring further information or the consultation materials in a different format should write to Transport Planning, Room 120, County Hall, Topsham Road, Exeter, EX2 4QD. Alternatively they can email transportplanning@devon.gov.uk or call 01392 383000.