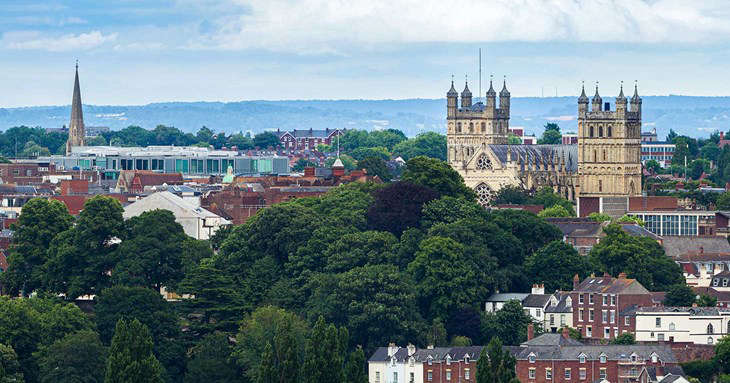 Exeter's city centre has more green spaces and trees than any other city in the UK, a new independent report has revealed.
The academic research from the University of Sheffield looked at 68 cities in the UK and scored them according to mean greenness, tree canopy cover and percentage green space.
Exeter came out on top overall, with the best combined score of all cities. It was the highest ranked city for greenness with a 0.15 Normalised Difference Vegetation Index or NDVI score, the second best city for tree canopy cover (11.67%) and the third best for greenspace coverage (0.05%).
The worst performing city was Glasgow, with a mean NDVI score of 0.02, a tree cover of 1.95% and an OS Greenspace coverage of 0.00%.
Satellite imagery was used to calculate the mean greenness (NDVI) – a score of between -1 and 1, with tree canopy coverage calculated by the land classification algorithm tool i-Canopy. Finally, to determine the amount of green space, OS Open Greenspace Dataset was used.
The report highlights that projections show that nearly 70% of the world's population will be living in towns and cities by 2050.
It goes on to say: "The process of urbanisation places considerable pressure on biodiversity and human health."
The report adds: "Evidence shows that green infrastructure, including trees, hedgerows, green roofs and parks play a vital role in urban ecosystem integrity. This includes sustaining biodiversity."
Cllr Amal Ghusain, Exeter City Council's Lead Councillor for City Management and Environmental Services, said: "We're proud of our parks and green spaces in Exeter and have worked hard over the years to ensure that they are protected."
Exeter enjoys a range of green open spaces including six Valley Parks managed by Devon Wildlife Trust, numerous parks, sports pitches, 1,400 allotments and a number of leafy cemeteries.
"Our parks help break up the urban nature of the city and are great places for people to explore, exercise or simply chill out. We are conscious of their importance and work really hard to improve them.
"Park and open spaces are great for mental health and wellbeing and they're also really good for helping us with our carbon neutral agenda," she added.