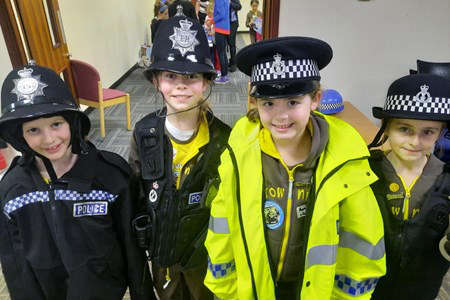 New police challenge badge for Girlguiding members aged four to 18.
Devon & Cornwall Police are proud to announce the launch of a new police challenge badge for Girlguiding members aged four to 18.
The Force has worked closely with volunteers from Girlguiding Devon to develop challenges which cover themes including community, careers, and personal safety. It is hoped that engaging with activities will empower children and young people to share important learning about personal safety, helping each other and acting against unsafe and inappropriate behaviour, and maybe even encourage some to consider future careers in policing.
There are over 5,000 young members in Girlguiding Devon with over 300,000 girls and young women in guiding nationally. The challenge pack builds on a badge created by London and Southeast Region Girlguiding with activities for all ages, from four-year-old Rainbows to 18-year-old Rangers. Depending on their age, girls need to complete between seven and 11 activities to earn their badge. This will typically take four to ten hours depending on the activities selected.
Girlguiding's 2023 Girls' Attitudes Survey revealed that 35 per cent of girls age 11 to 17 feel part of their community compared to 29 per cent in 2011. Over 40 per cent of those surveyed age seven to 21 placed having a worthwhile job as something they would like to achieve before they are 30. The police challenge badge aims to inspire young people to start to think about their careers as they enter adolescence.
Assistant Chief Officer Alexis Poole said: "We sincerely hope that girls find this challenge informative, empowering and, most of all, fun. I would like to express my thanks to the volunteers who have offered their time to work with us on creating this badge alongside school, work and running their own Girlguiding units. They should feel very proud of what they've created."
Jean Corbyn, County Commissioner for Girlguiding Devon said: "We are thrilled to be launching the police challenge badge. It has been a journey for our volunteers working alongside the police to put this together for every age group in Girlguiding. There are some great challenges and learning opportunities for all the girls to help them understand the police force, what it does for us every day of our lives and the opportunities for everyone to be involved in their work. I hope members really enjoy this exciting and unusual badge."
The Devon & Cornwall Police Challenge Pack can be downloaded from www.devon-cornwall.police.uk/girlguiding.
To find out more about volunteering for Girlguiding, visit www.girlguiding.org.uk.