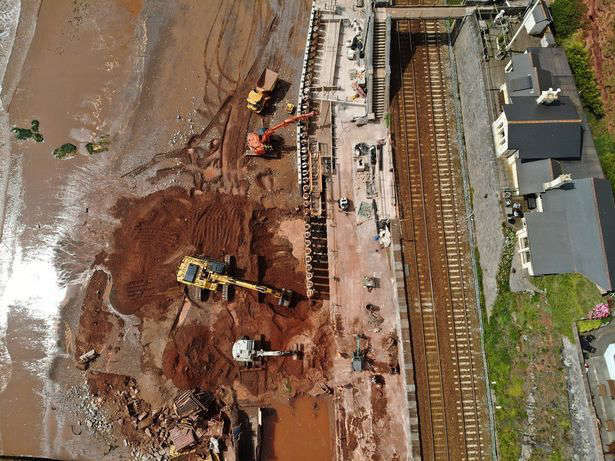 Image Network Rail
The sea wall at Dawlish has reached an "important landmark" following installation of143 concrete wall panel. Network Rail, who are carrying out the work, say that work on the second section on the project is progressing well after the concrete panels ranging from 6.09 to 6.69 metres in size and each weighing between 11.55 to 12.95 tonnes have been fitted
The sea wall at Dawlish has reached an "important landmark" following installation of143 concrete wall panel.
Network Rail, who are carrying out the work, say that work on the second section on the project is progressing well after the concrete panels ranging from 6.09 to 6.69 metres in size and each weighing between 11.55 to 12.95 tonnes have been fitted.
They also revealed that there would be further work to protect the railway line from rising sea levels and extreme weather after a devastating storm, which occurred on February 4, 2014, swept away the line leaving the South West cut off for eight weeks.
The completion of this work in 2023 will increase the resilience of the railway in the south west for at least the next 100 years and ensure communities remain connected via the railway network.
Ewen Morrison, Network Rail senior programme manager for the Dawlish sea wall project, said: "It is so satisfying to see us reach this important landmark in the second section of the new sea wall now that all the piles and concrete wall panels have been installed.
"The excellent progress that has been made is testimony to the hard work and coordination of staff from Network Rail and our contractors BAM Nuttall, who have successfully worked under challenging conditions.
Yan Sayles, Project Manager, BAM Nuttall, added: "Reaching this milestone is a testament to the hard work of the personnel on site, who are currently working around the clock through all weather conditions to deliver this vital bit of infrastructure.
"Works in the tidal environment are extremely challenging. This, coupled with the unique logistical challenges, make this achievement even more impressive as the works have to be re-sequenced on a daily basis to take into account the tidal and weather conditions."