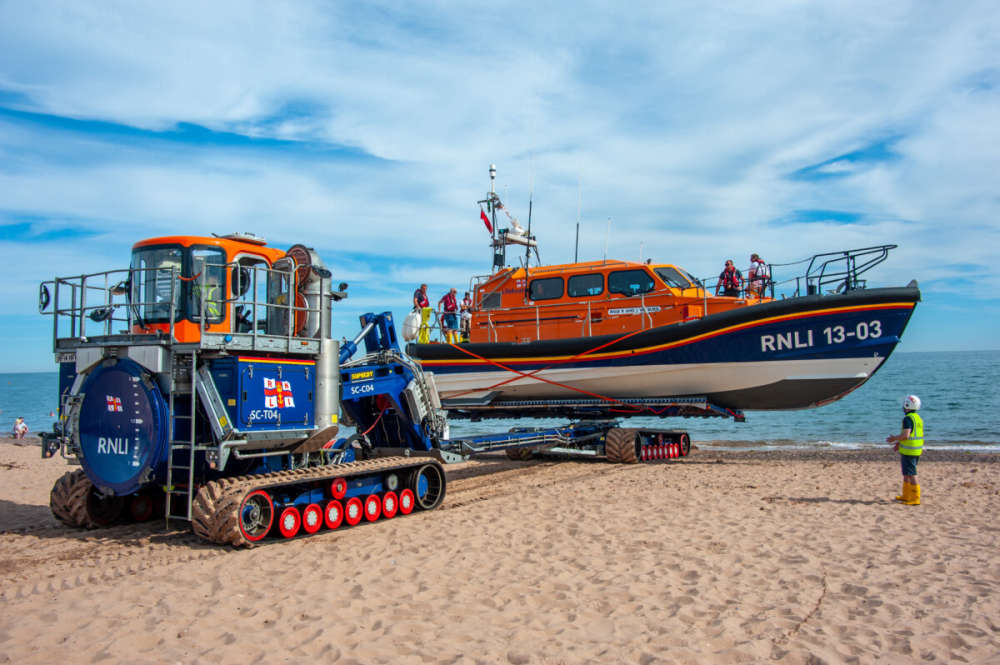 The volunteers of Exmouth RNLI Lifeboat Station will be inviting visitors to see their station, lifeboats and lifeguards close up and in action every Wednesday evening during August in events designed to be of interest to every age group.
Our wonderful Shop Volunteers will be keeping our well stocked RNLI Shop open late and our knowledgeable Tour Guides will be available for visits to the station, and information about the station itself, lifeboats, lifesaving equipment, rescue activity and history.
Subject to operational requirements, both our all weather Shannon lifeboat, 13-03 R & J Welburn and inshore lifeboat, D-805 George Bearman II, will be launching on exercise at shortly after 6pm with a member of the lifeboat crew providing a step by step walkthrough of the launching processes. Exmouth RNLI Lifeguards will be on hand to provide a demonstration of their work.
Exmouth Inshore Lifeboat D-805 George Bearman II launching. Credit: John Thorogood / RNLI
So why not pick your date and come on down and find out more about how your local charity that saves lives at sea operates in your local community.
Each event is planned from 5pm to 7pm on the following dates :
Wednesday 3 August 2022
Wednesday 10 August 2022
Wednesday 17 August 2022
Wednesday 24 August 2022
Wednesday 31 August 2022
We can't wait to welcome you - Exmouth Lifeboat Station, Queens Drive, Exmouth. EX8 2AY !