Leroy Funeral Services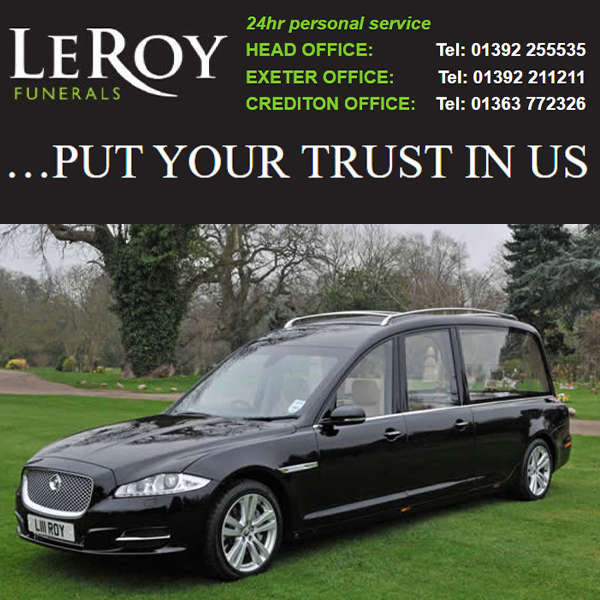 Phone Number: 01392 255535
Address: 10 Alphington Road, Exeter, EX2 8HH
Website: https://www.leroyfunerals.co.uk/
AN EXETER BUSINESS OF FAMILY FUNERAL DIRECTORS SINCE 1950.
FOLLOWING ON FROM PARENTS MARTIN AND DIANNE WREFORD, BROTHERS ANDREW AND NICK WREFORD CONTINUE TO LOOK AFTER THE COMPANY.
Losing a loved one is one of life's most upsetting times and adding to this, is the stress of organising the funeral. There's so much to be done to ensure the last goodbye is carried out to follow the family wishes.
You need to know that you are in safe hands to deal with everything for you in a sympathetic, caring and professional way, helping you with making funeral arrangements. You will be working with a team that offers:
Over 60 years' experience as funeral directors, arranging and conducting funerals in Exeter
24 hour FREE professional help and support
Five fully qualified Funeral Directors
High quality premises with full facilities
Ample FREE on-site private client car parking
Our own luxury Jaguar XJ vehicles
An extremely competitive price structure, for example our Purely Simple Service at £995.00 Including Cremation Fee
Professional service is assured by our team. We take control of all the funeral arrangements and will assist you with selecting a suitable coffin, flowers, catering, press announcements, service sheets and also offer alternative funeral services if you need a traditional burial.
You can be sure that LeRoy Funeral Services are very passionate and focused on satisfying your needs and are not distracted or bound by corporate rules handed down from a head office or share-holder.
When you talk to LeRoy Funerals you will find our fully dedicated team are professional, approachable, friendly and fully committed to giving you the support and help through one of life's most difficult times.
To find out more information about the services we offer please visit our Arranging The Service page or you can contact us by calling our head office on 01392 255535 and we will be happy to answer any questions you have.
Ben Clark

7:00am - 11:00am

Breakfast Show
Exmouth

Light rain

High: 12°C | Low: 10°C

Sidmouth

Light rain

High: 12°C | Low: 10°C

Exeter

Light rain

High: 13°C | Low: 10°C

Dawlish

Light rain

High: 12°C | Low: 10°C